10 Tracks by Ollie Teeba (the Herbaliser)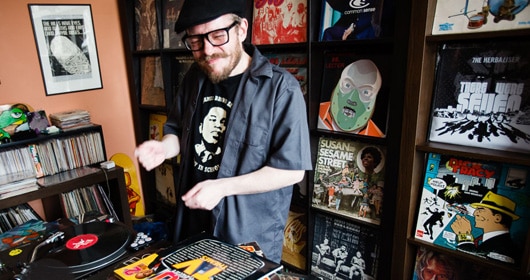 After Dj Vadim and Dj Food, here is another Ninja on INNA DI MOOD Podcast ! Indeed Ollie Teeba, Dj & producer from well known Hip-Hop collective the Herbaliser, is joining these two other Ninja Tune crew members as guest here for a tasty 10 Tracks playlist…
Created with Jake Wherry in early 90's around a shared passion for hip-hop, rare groove, funk and jazz, the Herbaliser can proudly claim 7 albums featuring prestigious MC's like Jean Grae, MF DOOM or Roots Manuva.
On stage the collective comes in two flavors : the Herbaliser Band, composed of a dozen musicians, represents brass and groove while Ollie provides Dj set on a more Hip-Hop side. He's also part of 45 Live collective, celebrating the mighty 45rpm single alongside JStar, Dj Format and many others, through live events all over Europe.
But waiting for your nights to be shacked by those heavy and funky sounds providers, what's best than a music lesson in 10 Tracks ? I don't know guys, I don't know, because this playlist is really hot !!