10 Tracks by Dj Food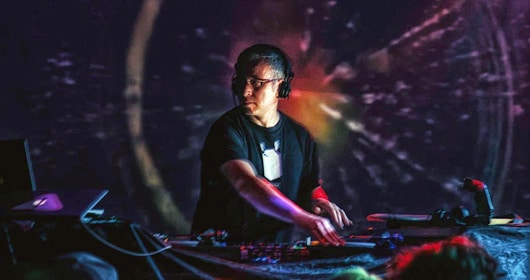 If you're following Ninja Tune label for a long time you surely know who Strictly Kev is. Part of Dj Food project for 20 years, and sole remaining member for the last decade, he's DJ-ing all over the world with label's crew, hosts famous Solid Steel Radio show with his mate DK and enjoys a career as chief designer for the Ninjas, under Openmind alias, since the early 90′s…

Bulimic of sounds and pictures, he owns a vast record collection in which he draws to realize an incredible amount of compilations and mixes, like this awesome Caught in the Middle of a 3-Way Mix (a tribute to the classic Beastie Boys album Paul's Boutique) or this more modest 10 Tracks playlist you're about to listen.
Well, Strictly Kev is such a music enthusiast that he couldn't bring himself to choose only 10 Tracks, so he shared with me his 12 Records I'm excited by in 2015 playlist, sent me 11 track names on which I couldn't find one (Virgil Howe title will be released in some weeks) so it's really a 10 Tracks exciting playlist that will lead you from fury to quietness in 45 minutes…
A playlist by Dj Food. On INNA DI MOOD Podcast. Dj Food on INNA DI MOOD Podcast. Mmmm say it again please…
Reso – Ricochet

Title track from the forthcoming album – drum n bass in 6/8 time.
Divine Styler – Architectonic

From his "Def Mask" LP, a sci-fi future Rap classic in the making.
Virgil Howe – Phoenix Theme
From his forthcoming "Hidden Level" album, pure menacing synth and drums instrumental.
Run The Jewels (feat. Zack De La Rocha) – Close Your Eyes (and Count To Fuck)

Just a banging rhythm built around Zack's "Run Them Jewels" fast refrain.
Psychic TV – Alien Be-In (Silent Servant remix)
A classic turned into what sounds like a lost Acid track where the machines are slowly taking over.
The Advisory Circle – Escape Lane
From one of the albums of 2014, "From Out Here".
Jane Weaver – Mission Desire
Again, hard to pick a stand out track from another album of 2014.
Temples – Shelter Song

Still playing their "Sun Structures" album from last year, all killer no filler.
Syd Arthur vs The Amorphous Androgynous – Edge of the Universe
Hard to pick one stand out track as the whole album is great, the AA (aka FSOL) make over Syd Arthur as only they can.
The Four Seasons – American Crucifixion Resurrection
I was only just turned on to this, in 1969 the Four Seasons made a psychedelic record and it's amazing.
Vangelis – The Tegos Tapes Edits #03

Unreleased ambient music from the Greek legend made specially for a neurosurgeon to perform operations to, no, really.