Steely Chan is INNA DI MOOD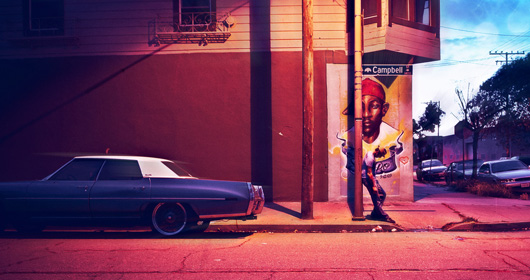 Booo ! Remember the last episodes of the Rhythm & Flow series ? Some seriously grooving Funk & Hip-Hop mash-ups gathered in two highly explosive blends who could move grand-ma on a dance floor. Well, I'm very pleased to welcome today one of the talented producer responsible of some of those tasty edits. In fact it's not one but two as Steely Chan is composed by two brothers, Matt & Trevor.
As you can hear on their Soundcloud, the Toronto based duo made a specialty to blend the hardest funk rhythms with the golden era Hip-Hop vocals. I strongly recommend you to check the two wicked sets Rawkus Lee (A tribute to Rawkus Records and Shawn Lee) and Mos World (A tribute to Mos Def, Lee Fields & the Expressions) which prove that they're totally right. That's really heavy !
They made us today an exclusive mix that Matt introduces like this : "This mix tape is composed of some of our favourite Hip-Hop album cuts, B-sides to singles, and remixes that have been released during the 90's. One mistake that we made was adding the Shadowboxin' by GZA since this was actually an A-side track for that single. However it's still a great song so enjoy !".
Given the quality of the result, your mistake is totally forgiven guys !!

Album Cuts, B-Sides and Remixes : A Steely Chan Mixtape
Jigmastas – Dead Man's Walk
Mad Skillz – Skillz In '95
The Roots – Silent Treatment (Da Beatminerz remix)
Channel Live – Mad Izm (Buckwild 95 Remix)
Das EFX – Microphone Master (Dome Cracker remix)
Artifacts – Whassup Now Muthaf-ka
Gang Starr – Gotta Get Over (remix)
Blahzay Blahzay – Danger (Premier remix)
Special Ed – Freaky Flow (Premier remix)
Casual – That's How It Is (remix)
Del Tha Funkee Homosapien – Undisputed Champs (feat. Q-Tip & Pep Love)
Masta Ace – The I.N.C. Ride (The Phat Kat Ride remix)
Dj Honda – Straight Talk From N.Y. (feat. Grand Puba, Sadat X & Wakeem)
GZA – Shadowboxin' (feat. Method Man)
Real Live – Crime is Money
De La Soul (feat. Mos Def & Truth Enola) – Stakes Is High (J-Dilla remix)
Bushbabees – The Love Song (45 King remix)
Pete Rock & CL Smooth – If It Ain't Rough, It Ain't Right
the Beatnuts – Hellraiser
Showbiz & A.G. – Represent (feat. Big L, DeShawn & Lord Finesse)
Brand Nubian (feat. Diamond D) – Punks Jump Up To Get Beat Down (remix)
Cypress Hill – Latin Lingo (Prince Paul Mix)
Lord Finesse – Yes You May (feat. A.G. & Percee P)
MC Serch (feat. Chubb Rock, Nas & Red Hot Lover Tone) – Back To The Grill (remix)
Podcast: Play in new window | Download (82.9MB)