Rafael Aragon is INNA DI MOOD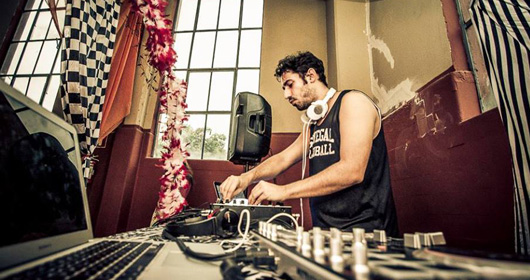 Back on track with a new special guest which insisted to do an exclusive mix rather than a more easy 10 Tracks selection… Isn't it a good news ? Rafael Aragon indeed prefers express himself through his controller and that's an excellent occasion to dust off the Guest Mixes series.
Following his productions for a moment, it's not very long time ago that I realized the man was located in Paris. Clearly its name, influences and the many appearances all over Europe and South America are blurring the tracks. But it perfectly fits his musical style mainly club oriented, heavy bass material, yet delicate, maximalist and highly psychedelic.
Just go and check his Bancamp and Souncloud accounts to have a deep overview of all his numerous digital EPs and others remixes he's produced during 10 years, driven by his obsession of mixing traditional, folkloric music with modern electronic patterns…
He delivers us today a pure 30 minutes slow mood, where he finds the perfect balance between organic and synthetic, old and new, holy and profane. Today, Rafael is a shaman and you're going to experiment a higher level of consciousness ! If not, you only have 30 days to bring claim.
Playlist
Die Orangen – Oodnadatta Rain
Rafael Aragon & Stas – Ik Vari Do Vari
Andi Otto – VIA (Dj Ground remix)
Cigarra & BirdZzie – Sol e Chuva
R Vincenzo – Excellent Drom
Spaniol & ElPeche – Saudação à Ogum
Rafael Aragon – Caribe Año 68 (Streamer remix)
Rodrigo Gallardo – Ay Que Sera Del Sol
Wassim Younes – Geetha (Original Mix)
Larytta – Something Good (Rafael Aragon remix)
Podcast: Play in new window | Download (36.7MB)