JStar is INNA DI MOOD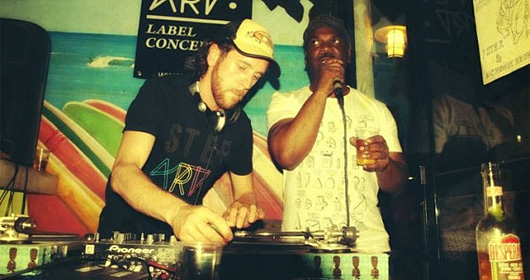 Hey Hey ! Remember five months ago when Blundetto accepted my invitation to celebrate the 100th mix of this tasty podcast ? Well, I am pleased to announce today the visit of another well-known selector, very appreciated here : JStar himself !! Cheering crowd…
For those of you who don't know the man, he's a talented UK producer and remixer (Dj Vadim, Madness, Miss Dynamite…) which delivers since nearly 10 years some of the best Reggae / Hip-Hop mash-ups inna di place. Tireless digger, he found the time between two Dj sets around the world to concoct this savory blend he describes himself as :
"A selection of heavy bass vinyl from the JStar archive, setting a mood to ramp you up against Babylon and shake your expectations. Mostly concentrating on the bottom left hand corner of the second record shelf archive, and thats a good area to be in, I can tell you ! Some more obscure tracks and no room for a JStar remix here, so you'll just have to visit jstarmusic.com for some of that. No records have been harmed in the making of this mood, but some may have been sped up or slowed down."
No need to say I'm particularly proud to receive such a quality guest today, so once again thank you Boss ! Hit me if I lie but hopefully there will be more visitors of this kind in the future, stay tuned !
JStar's "Babylon Sex Drive Mix" Playlist
Cotton Belly – Move me
Hot Chip – Look at Where we Are (Major Lazer remix)
Unitone Hi-Fi – Babylon (Muslimgauze Babylon iz Iraq mix)
Blue & Red –  Lessons of Old
More Rockers – Analogue Jungle
Skorpi & Zängä –  Survival Dub
Keith Lawrence – Make the Beat Bubble !
Skorpi & Zängä – Love inna Laylow
NSO Force –  Chains
Podcast: Play in new window | Download (28.1MB)