10 Tracks by Guedra Guedra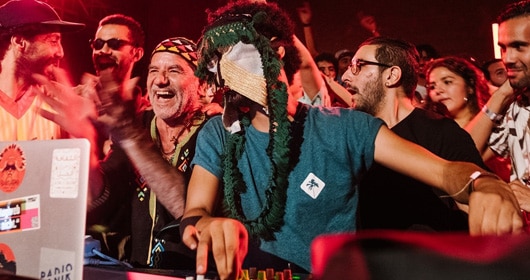 Fan of Clap! Clap! and Dengue Dengue Dengue ? Then don't move ! Like those famous Italian and Peruvian producers, Guedra Guedra is the missing link between an ancestral musical culture, here Morrocan Berberian's, and contemporary club music with a highly punchy and addictive overall bass sound.
If you don't have a clue about know what I'm talking about, just take a seat and watch this Boiler Room video from his live show at the Atlas Electronic 2019. The man knows how to move a crowd !
Freshly signed on exciting UK label On the Corner, Abdellah M. Hassak from his real name, has just released his first album Vexillology a couple of weeks ago.
But even if media feedbacks are already big (the Guardian, Liberation, Arte…), he assumes to stay in his country rather than going to live in Europe, in order to be an active part of Morocco actual modernization process. The kind of choice that should be put forward…
Back to our 10 Tracks series, Guedra Guedra has warmly welcomed my invitation to gather an exclusive playlist full of favourites heavily flavoured with North African inspirations. Challenge met, choukrane sidi !