10 Tracks by Chief Boima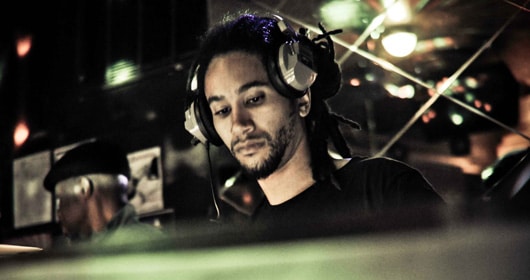 Back to our musical case after some good vacations under the sun. I'm very pleased to host today a new special guest in the 10 Tracks series, someone already playlisted here several time, I mean Chief Boima.
Music producer, DJ, writer, journalist, this Sierra Leonean-American defends a globalized dance music respectful of its roots for more than 10 years through several releases, radio show, debates, website, articles…
Boima's commented selection is an opportunity to know more about his musical taste but also to have a good overview of music that makes African streets vibrate recently, so take your breath and enjoy the ride !
Everything is below with a new embed Youtube / Soundcloud players display…
Wanlov the Kubolor – Never Go Change
Politically biting and beautiful at the same time.
Kataleya – Hoje é Hoje
Afro house pop from Angola.
Fatoumata Diawara & Amine Bouhafa – Timbuktu Faso
From the movie Timbuktu a touching song, and Fatoumata who is in the movie plays such a touching role.
Joey B & Akwaaba Sound System – Tong
Live Tonga from Ghana… Wanlov makes an appearance again.
Blitz the Ambassador – Shine
Love the Guinean orchestra sound, which is what I believe this sample to be, it really lends itself to Hip-Hop as J Cole showed previously.
Iba One – Rappeur International
My favorite Malian rapper keeps moving on and his sound matures along with him.
RedRed – For You
Wanlov collaborator Mensa introduces his new project with ELO in Budapest… The live version of this song, dedicated to his son, pulls at the hearstrings.
Frenchie & Naira Marley – Cele
More afrohouse, this time from the UK and Congo.
Byano DJ (feat. MC Luizinho) – Bixo Solto Da Chatuba
Byano DJ is a great DJ from the Chatuba community in Rio! I again love the guitar/cavaquinho sound inherent in and around Rio… Funk music lately has been using it to great effect!
Lamin Fofana – Lampedusa
Lamin Fonana delivers a techno masterpiece with a dedication to migrants crossing the Mediterranean to find better lives for themselves and their families.