Heavy Sound & Vision Vol.1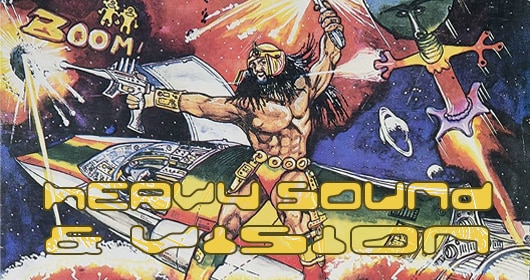 Hey hey, very glad to welcome today a new curator on INNA DI MOOD Podcast! Jesse Allen is feeding Instagram on a daily basis with his massive Reggae LP collection and will share here his deep Jamaican music knowledge. Here is a small introduction text he wrote:
"Heavy Sound & Vision was a page set up to share not only the music that I loved but also the visual aesthetic that embodied it. Originally I wanted to showcase the various of genres of music that I have collected over the years, however reggae, dub, dancehall and all of its various forms have taken over that page and have informed what I mix and how.

I grew up in Middletown (USA), CT home of Wesleyan University and the radio station WESU (where I am now a DJ). College radio was the only place you could hear underground Hip-Hop in the 90s and was also a way for DJs from Hartford's West Indian community to play the latest in Caribbean music.

In the early 90s, in between making tapes of BDP, Eric B. & Rakim and PE songs, I heard Gregory Isaacs "Rumours" and was hooked. That rhythm and voice conveyed so much strength and emotion I had to get more. Over the years I have travelled and taught English and Sociology in both America and Ethiopia and have gone in and out of record collecting. The pandemic allowed me to focus and really dive into making mixes and learn about the production of Jamaican music and its various forms, connecting the dots of who the producers, singers, players, labels and eras best fit into what I consider my sound to be."
Let's start with a 1 hour mix dedicated to Brooklyn label DKR which spreads the heaviest in rare and unreleased Jamaican music since 2009. Boost the bass!
Playlist
Al Campbell – Down in Babylon
Lionel Barrett – Rasta Cowboy
Courtney Melody – Watching You
Bobby Melody – Original Melody
Midnight Riders – Youthman Invasion
Michael Palmer – Different Strokes
Steve Knight – Love Me Entertainment
Barry Brown – Land Of The Living
Flick Wilson – Last Night
Tony Tuff – Dance In the Area
Sammy Levi – Automatic
Success – Profile Scion
Roman Stewart & the Heptones – Rain A Fall
Tyrone Evans – Freedom Song
Little John – Fake News Version
Hopeton Junior – Reward
Podcast: Play in new window | Download (82.4MB)