10 Tracks by Benjamin Lebrave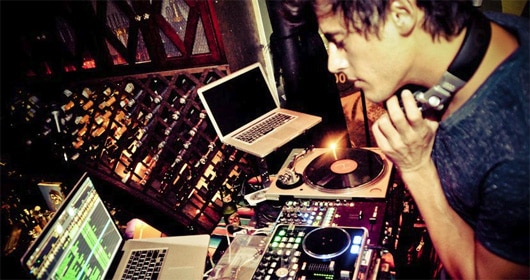 Promoting contemporary African music seems to be the mission that Akwaaba Music label boss, Benjamin Lebrave, has chosen.
In 2008, he launched his label while working in San Francisco for an online music distributor and moved to Ghana two years later : "We started Akwaaba because we found it way too difficult to access a whole lot of music from Africa".
If you're interested to know how things happened, don't miss the whole story related in this article recently published on TRUE Africa website and including a video interview : Benjamin Lebrave: the man behind Akwaaba Music.
Since his move he's worked with plenty of artists from the whole continent, spread the vibes via numerous Dj Set under his Bbrave nickname and recounts African music scene through his columns "Lungu Lungu" for online magazine the Fader.
You can imagine it's with a wise eye and an expert ear that Benjamin has achieved this exclusive 10 Tracks playlist, true slice of African streets life, you can easily extend by Chief Boima selection, as they are very close in many way.
So let's go guys… Akwaaaaaba !!
G'Sparks – Tombosha Bantu
When a Congolese producers gets into house music, all hell breaks loose.
Patoranking – My Woman, My Everything

Beat by DJ Breezy, rainmaker in Ghana right now.
Burna Boy – Yawa Dey
Nigerian pidgin dancehall.
Wizkid – Ojuelegba
Fantastic song way before Drake and Skepta laid their verses on it.
Rashid Metal – S3k3 Noko
If you take a taxi in Ghana and the driver turns on the radio, this type of banger is what makes traffic seem like a convenient excuse to keep bobbin' your head.
Mr Eazi (feat. Pappy Kojo) – Bankulize

Great, great beat by DJ Juls.
Sewor Okudzeto & Anas – Wa Ka Wo Ho
Something softer.
Lizha James (feat. Afro Madja) – Xingomana (remix)
Love hearing the Indian Ocean influence in this Mozambican house hit.
To Semedo & Loony Johnson (feat. Djeff) – Undi Da Ki Panha
Cabo Verdeeeeeeeeeeee !
Fabregas – Mascara (Mado)
Congolese jam right now.