10 Tracks by Batida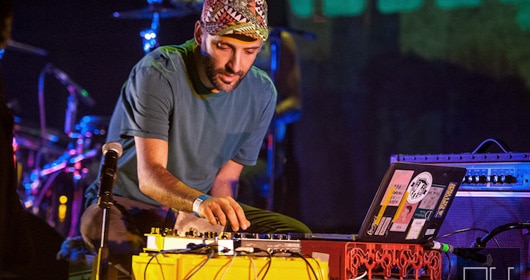 3 weeks only after the awesome 10 Tracks playlist by Dengue Dengue Dengue!, let's dive into the selection of another Tropical super hero : senhor Batida !
Active on the scene since 2006, and the launch of its national radio program, Angolan / Portuguese citizen Pedro Coquenão knew how to impose his clever mixture of African music and modern Kuduro via a mixed CD (his best work to date, imho) and 2 albums, Batida and Dois, both released on Soundway.
Traveling the planet for his shows, sometimes under his alias Dj Mpula, he moves the crowd in clubs and festivals while militating for the dissolution of these often mental borders that divides North and South. His most radical project in this sense being his recent association with the legendary Congolese group Konono N°1 for an absolutely mind blowing Konono Nº1 Meets Batida which updates European standard of trance (see also previous episode Kinsha Streets).

As fan of its work since several years, that's a true pleasure to host his playlist today, and I hope you'll enjoy it as it should : a tribute and showcase to his Lusitanian compatriots music… Saboroso !!