10 Tracks by Poté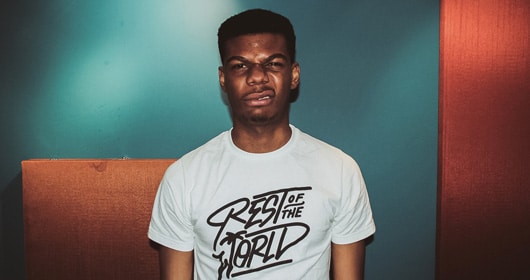 You. Yes you. If you enjoyed recent Interstellar Overdrive episode, you should look at this more closely as my guest of the day, English producer Poté, is behind one of the craziest track of this mix, the amazing Cascavel.
The man doesn't have a big discography yet but can already argued of some remixes for Buraka Som Sistema's Portuguese label Enchufada and appearances on Rinse FM and BBC Radio 1. His style could be summarized as a combination of Kuduro rhythms and UK Funky but it would be simplistic as beyond analogies, it's mainly energy and vibes of his music that make the difference. And it's a clear difference !

If you feel curious, and you should, go visit his Soundcloud to join music to the text, and browse his influences through this 10 Tracks playlist he selected and commented especially for INNA DI MOOD Podcast. YEAH !

Buraka Som Sistema – Hangover
The first time I heard that track I was in genuine awe because in all my life I've never come across anything like it before. The percussion, bassline, vocals, everyone was just so right. It opened up my eyes to see there's so much more music out there to listen to.
Red Rat – Shelly Ann
I grew up on stuff like this so I'll forever have some time for Red Rat. Every time I hear it the gun fingers come out, it's a must!
Benga – Electro West
The drums!! The drums!! The man is incredible. That's all.
TWR72 – Download
This track has inspired a lot of my recent writing, simple structure, great groove..hopefully their received as well lol.
Breakage – Temper (feat. Kemo)
Breakage doing what he does best. This track is phenomenal in my eyes, great vocals & lyrics by Kemo as well." "Wait a minute / Don't give up yet, Keep on breathing / Keep on dreaming, Play the game and pay attention, Stay awake / Stay awake.

Breakage – If (feat. Threshold)
As you can probably tell by now I'm a huge Breakage fan, this is another one of those stand out tracks for me with Threshold. Banger!
Morgan Heritage – Down By The River
Another track I grew up on thanks to my dad, this track got a daily blast on the system followed by a laughable attempt of a sing-along by my dad.
Benga – Rock Music
Just listen to the track. Just Benga, being Benga & smashing it.
Brolin – You
This track is just so much! The vocals glide along the beat so well. Would love to one day work with this guy!
Hans Zimmer – Time
This was the first time I came from a cinema completely mind boggled (from the film Inception). Simply incredible, the entire score is glorious!