MCA, Brooklyn (1964-2012)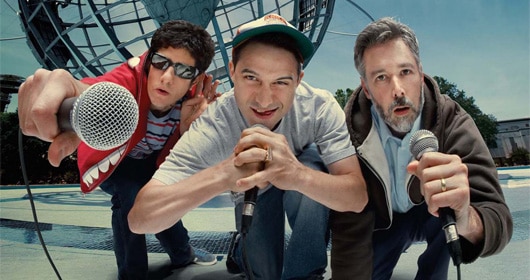 My first Hip-Hop memories are associated with some low quality tapes. I can specially remember about the ones, among others, which made me discovering this stream : Public Enemy, the french compilation Rapattitude and the first Beastie Boys album Licensed to Ill. At first I was not so much into the sound of those Brooklyn guys but I was quite fascinated. It wasn't until the second album Paul's Boutique and the following Check Your Head that I really get caught. Those funky sample and distorted flow were matching so much with all the hardcore and skate things I was about at this period. So, like I guess a lot of people, when I've learned the death of Adam Yauch aka MCA, it's a bit of my youth which flew away…
I don't know what will Mike D and Ad-Rock do in the future. Maybe they'll turn the Beastie Boys page or they'll keep going on but I would like to pay them a tribute in this special issue through this totally subjective playlist including all my favorite tracks. RIP Adam.
Playlist Beastie Boys
B-Boys Makin' with the Freak Freak
Booty Groove (Max Tannone remix)
Car Thief
Do It
Egg Man
Funky Boss
Get It Together (feat. Q-Tip)
Professor Booty
Paul Revere
the Scoop
the Sound of Science
So What'cha Want (Dj Muggs remix)
the Vibes
the New Style
Looking Down the Barrel of a Gun
Some Dumb Cop Gave Me Two Tickets Already
Eugene's Lament
Podcast: Download (64.2MB)
PS : Cross the fingers and expect something special for the 100th episode !
Tags
Beastie Boys
,
Dj Muggs
,
Max Tannone
,
Q-Tip